Diabetes Education
Diabetes Workshops for the Public and Health Professionals
Jacqueline King, MS, RD, FADA, CDE and staff have been involved in the presentation of numerous diabetes workshops for the public and health professionals. With her colleague, Monica Joyce, RD, CDE, she has given lectures locally and across the country on the following topics:
Current Developments in Intensive Diabetes Management
Insulin Pump Therapy/Continuous glucose monitoring
Carbohydrate Counting
Diabetes in Pregnancy
Gestational Diabetes
Child Diabetes
Maturity Onset Diabetes in Youth
Compulsive Over-eating and its Role in Diabetes: Discussion and Treatment
Psychological Concerns of Diabetes
Use of Oral Medications
Insurance Reimbursement for Diabetes Care
How to Incorporate Diabetes into your Private Practice
Use of Insulin and Oral Agents
Nutritional Management of Diabetes
Eating Out Strategies
Preceptors for University of Illinois Chicago dietetic interns for diabetes education.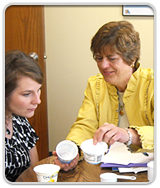 If you are interested in a workshop for your group please contact us at jacqueline@nutradynamics.com. Jacqueline King and Monica Joyce's numerous drug company supports will enable you to provide your group with information on the latest information on diabetes.
Diabetes Education Experience

Michael Reese Hospital, Chicago, IL. Internship in diabetes. Established the role of the dietitian on the diabetes team. Proposal led to the establishment of an RD position in the Diabetes Treatment Center.
Rush Presbyterian St. Luke's Medical Center-worked in the medical, renal, and cardiac units for patients with diabetes.
Lectured at Northwestern University Medical School/Northwestern University Nursing School on diabetes and nutrition.
Lectured across the country on diabetes related topics to professional and lay groups.
Authored and co-authored numerous articles on diabetes related topics in lay and professional publications.
Reimbursement chair of the Diabetes Care and Education practice group of the American Dietetic Association.
Member of the Illinois Diabetes Legislation Coalition that resulted in coverage of diabetes and supplies in the state of Illinois.
Trained at the International Diabetes Foundation in St. Paul, Minnesota on the Diabetes Management Team.
Served on the editorial staff of the Diabetes Forecast Magazine.
President of the Diabetes Educators of the Chicago Area.
Author of the Nutritional Management of Diabetes in Pregnancy-audiocassette series, American Dietetic Association.
Diabetes in Pregnancy Audiocassette for the American Association of Diabetes Educators.
Certified Diabetes Educator/Registered Dietitian

Patient
Patient Advocate
Educator
Leader
Lecturer
Writer
Diabetes Legislation Advocate
Jacqueline King is also the co-author of diet reference guide and book Too Busy to Diet.
Testimonials
"Jackie King is one of the most informed and educated diabetes practioners in the nutrition field. She is a leader who mentors fledgling practioners aspiring to her same credentials, goals, and experience. When I receive a complicated diabetes case, I both refer and prefer that the client be counseled by Jackie. I do this knowing that my patient with diabetes will be receiving the most up-dated diabetes intervention and counseling available."
Sue Rose, MS, RD
My Diet Matters
Park Ridge, Illinois